| | |
| --- | --- |
| Function | Face Lifting and Body Slimming,Vaginal tightening |
| Target Area | Face, Body, Eyes, Neck/Throat, Lips, Legs/Arms, Virgina |
| Input voltage | 220/110V; 50/60Hz |
| Output voltage | 10-200W |
| Energy Output | 0.1-2.5J Adjustable |
| Rated current | 1A |
| Standard Cartridges | 4D with 2pcs(optional),Vaginal probe with 2 pcs,Vmax probe with 2pcs(optional) |
| Cartridge option | 4D catridges: 1.5mm/3.0mm/ 4.5mm/6.0mm/8.0mm/10.0mm/13.0mm/ 16.0mm (optional); Vaginal tightening probe: 3.0mm/4.5mm; Vmax probe: 1.5mm/3.0mm/ 4.5mm/8.0mm/13.0mm(optional); lipo body cartridges: 8.0mm/13.0mm/0.6mm/1.0mm/1.6mm( optional). |
| Cartridge lift time | 4d:10000 shots/pc,Vmax/:62000 shots |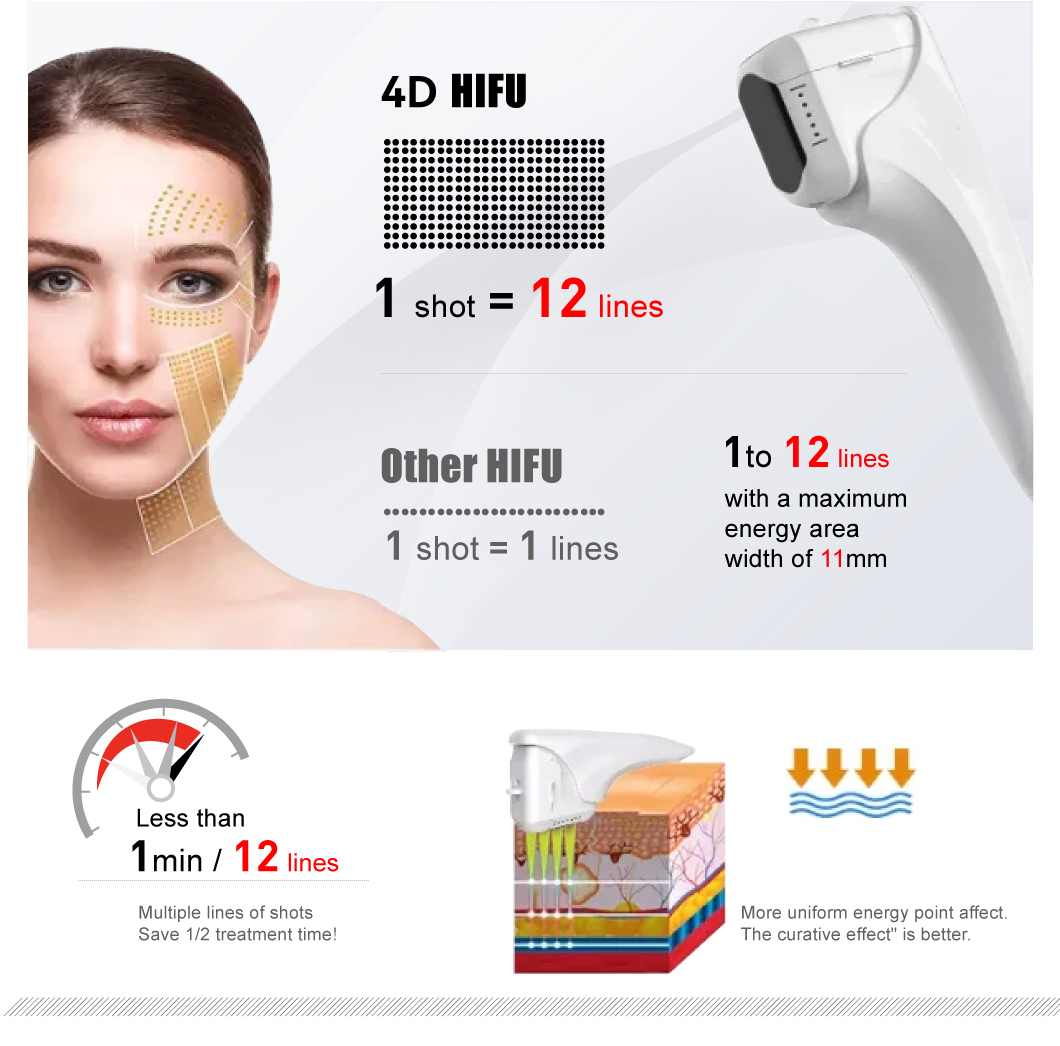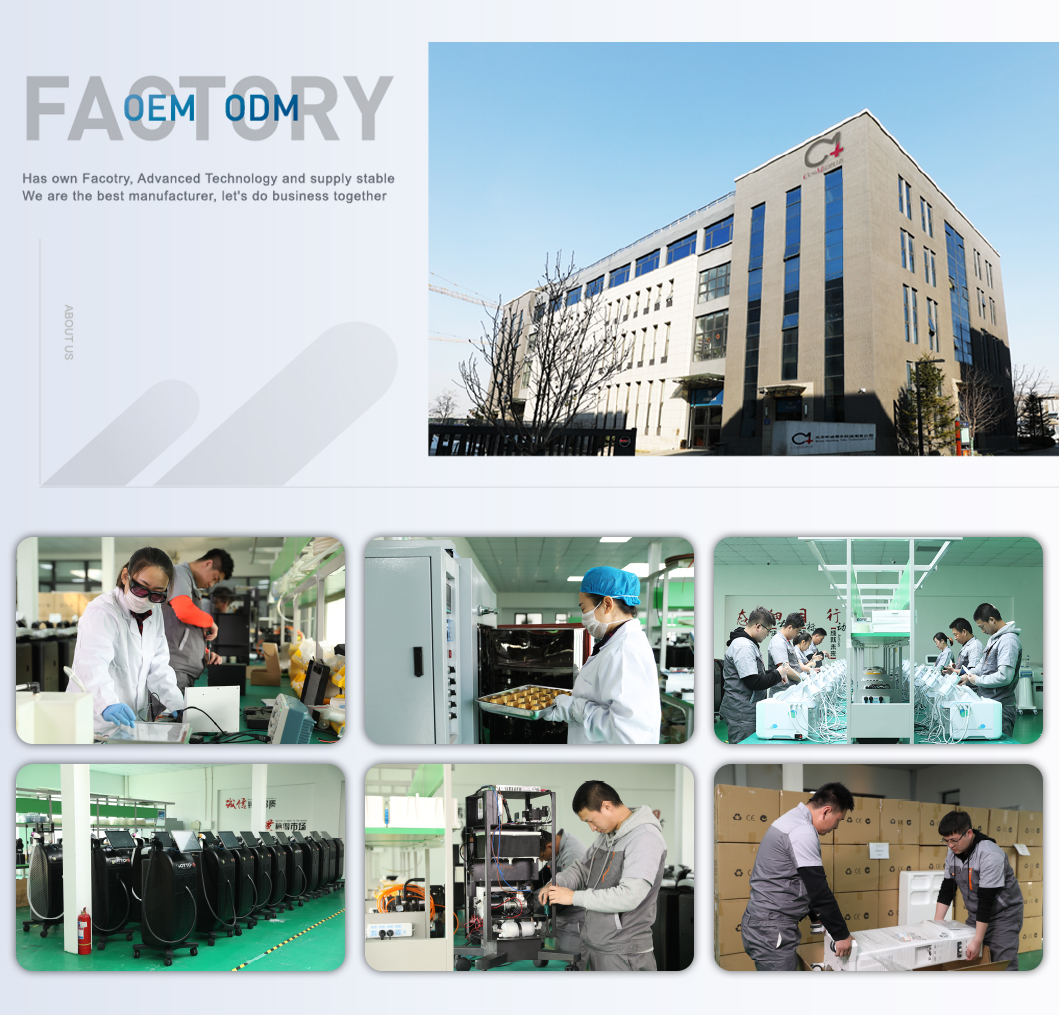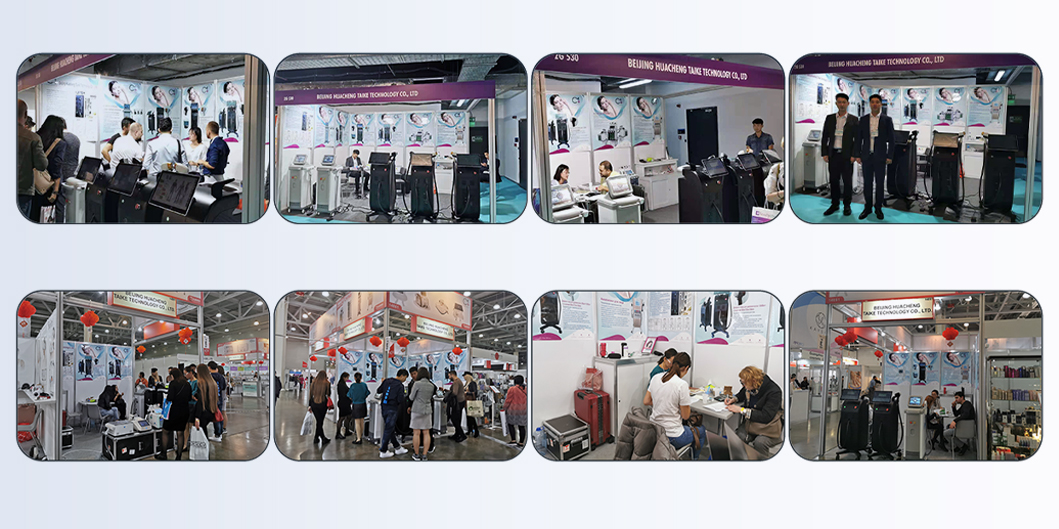 Ultrasonic focusing reaches the SMAS layer with its specific high-energy focused ultrasound, improves the SMAS suspension, comprehensively solve the facial sagging and relaxation problems. It accurately positions the ultrasonic power on the SMAS 4.5mm under skin, performing the best effect of shaping, pulling and compacting for muscle growth and traction; impacts on the collagen layer 3mm under skin, making the collagen restructured and newborn, solving the aging problems by recovering elasticity, skin whitening, wrinkle removing and pores shrinking.1. 360°rotation emission:total care for vaginal. 2. Precise depth adjustment system. 3. Non-invasive,no downtime,no recovery time,can have sexy in 3 days after treatment. 4. It has heat effect on dermal collagen and collagenous fibers as well as thermal stimulus on fat layer and SMAS, whose treatment effect is more than the Fractional Co2 Laser. It is easy and convenient for operation, and no consumable items are required, which greatly saves the treatment cost. 5. Tightening and shaping effect is obvious after treatment. It can be maintained at least 18 to 24 months after one treatment and realize negative growth of skin age once a year. 6. The normal life and work will not be influenced if you make up the moment. 7. Easy and convenient: 20 minutes treatment can get instantly firmer, less treatment times, simple operation. 8. 3.0mm,4.5mm catridge with 10000 shots each. 1. Immediately effect after one treatment. 2. 2-3 times treatment can last about 3 years. 3. Our beautician advised to do it again after per half year. 4. Non-invasive, safe. 5. Skin tightening, wrinkle removal and body slimming effects. 6. Stimulates the body's natural collagen production. 7. short of downtime.