Using (High Energy Focused Electromagnetic Wave) technology to continuously expand and contract autologous muscles and carry out extreme training to deeply reshape the internal structure of the muscle,that is, the growth of muscle fibrils (muscle enlargement) and produce new protein chains and muscle fibers (muscle hyperplasia), so as to train and increase muscle density and volume. The extremely efficient and deeper penetration of Synchronized RF allows fat to be heated to 43 degrees Celsius within 4 minutes of treatment. Due to real-time feedback in the treatment applicator, thermal sensing keep tissue warm, but not hot. This special temperature of the fat, between 43-45 degrees Celsius, enhances fat cell destruction. A gentle heat is also delivered to the muscle tissue, pre-warming muscle to receive more effective contraction. The 100% extreme muscle contraction of (High Energy Focused Electromagnetic Wave) technology can trigger a large amount of fat decomposition,Fatty acids are broken down from triglycerides and accumulated in fat cells.The concentrations of fatty acids are too high ,causing the fat cells to apoptosis, which is excreted by the body's normal metabolism within a few weeks. Therefore, emslim neo machine can strengthen and increase muscle, and reduce fat at the same time.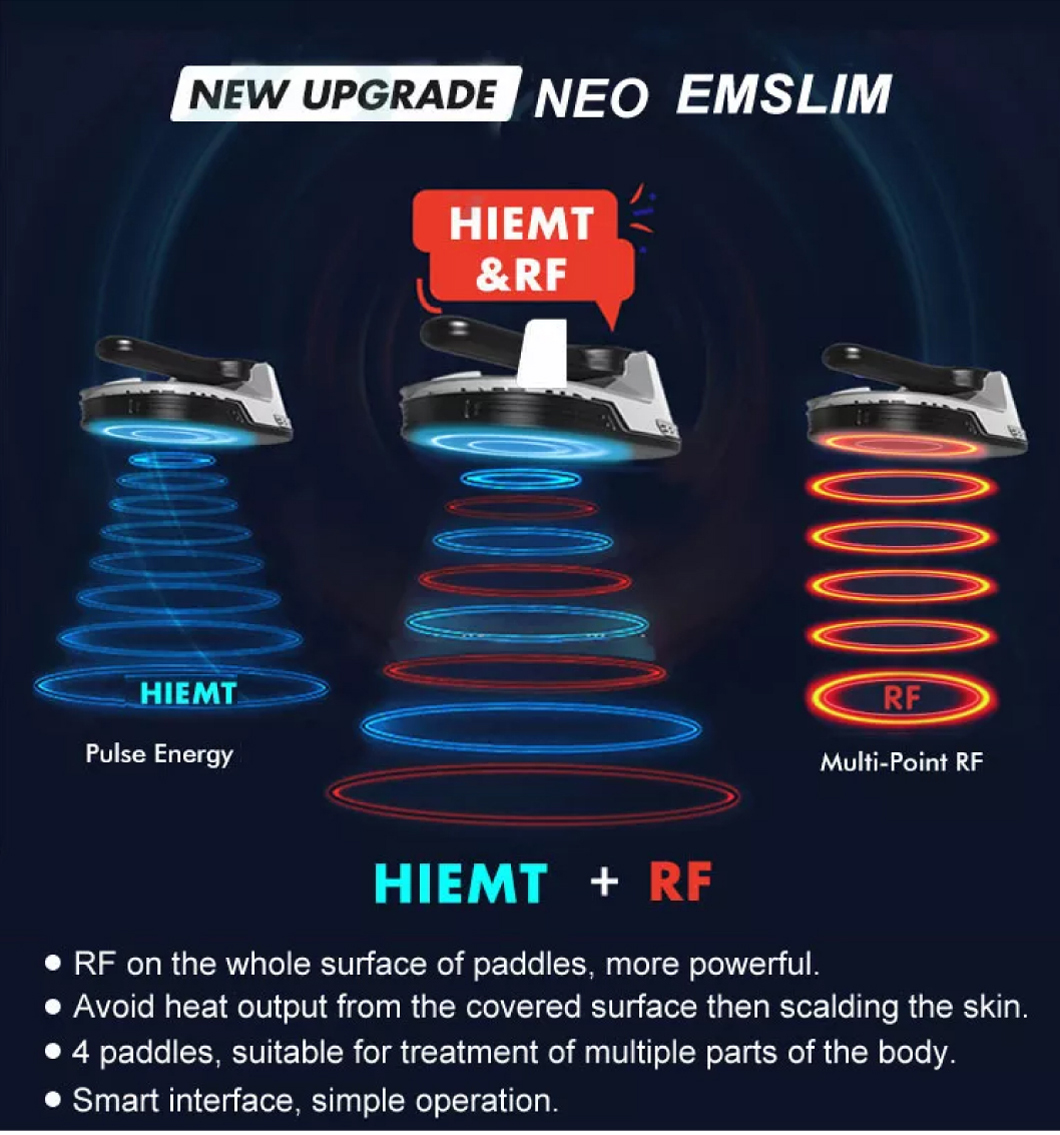 | | |
| --- | --- |
| Technology | High-Intensity Focused Electromagnetic |
| Voltage | 110V~220V, 50~60Hz |
| Power | 5000W |
| Big handles | 2pcs (For abdomen, body) |
| Small handles | 2pcs (For arms, legs) Optional |
| Pelvic floor seat | Optional |
| Output intensity | 13 Tesla |
| Pulse | 300us |
| Muscle contraction (30 min) | >36,000 times |
| Cooling system | Air cooling |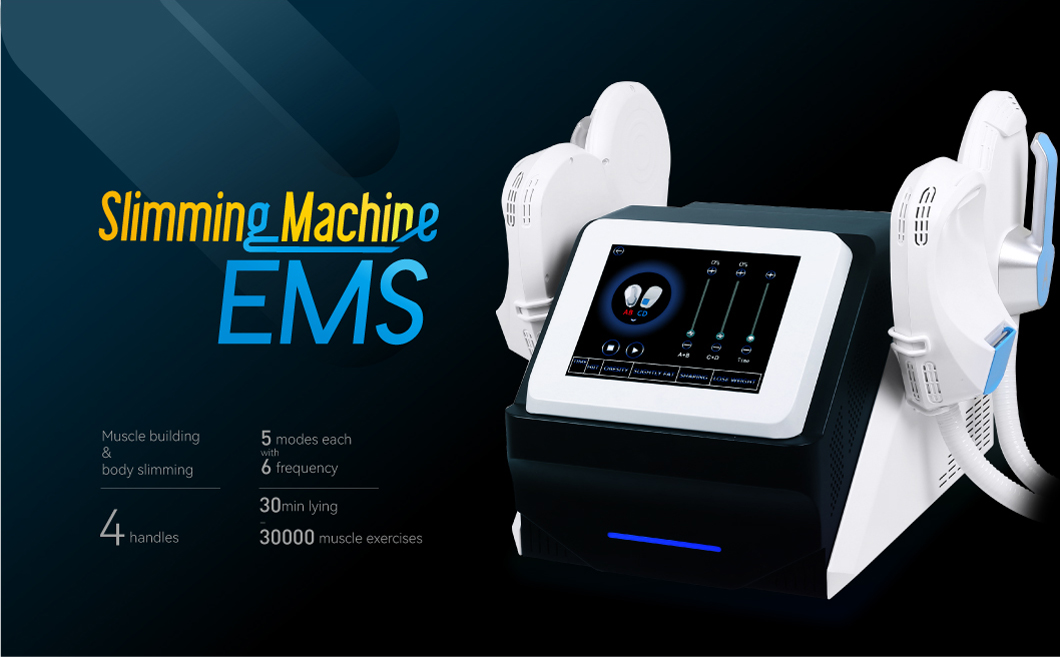 1.10.4inch color touch screen , more humanized and easy to operation . 2.It has 5 modes to choose : HIIT- High intensity interval training mode of aerobic fat reduction. Hypertrophy --Muscle strengthening training mode Strength --Muscle strength training mode HIIT+ Hypertrophy --Training mode of strengthening muscle &reducing fat Hypertrophy + Strength Training mode of strengthening muscle&muscle strength 3.Four Magnetic Stimulation Applicators can work together or work seperately (2 big applicators is used for big areas such as abdomen and legs , 2 small applicators is used for small areas sucha as arms and hip) . 4.Tesla High Intensity: 13 Tesla high intensity magnetic energy, which could cover big skeletal muscles of the human body, and this high energy level allows musle responds with a deep remodeling of its inner structure. 5.50000 times squeeze muscle only in 30 minutes , energy stronger and save more times 6.machine equiped with air-cooled applicators that ensure long time opeartion without any overheat issue.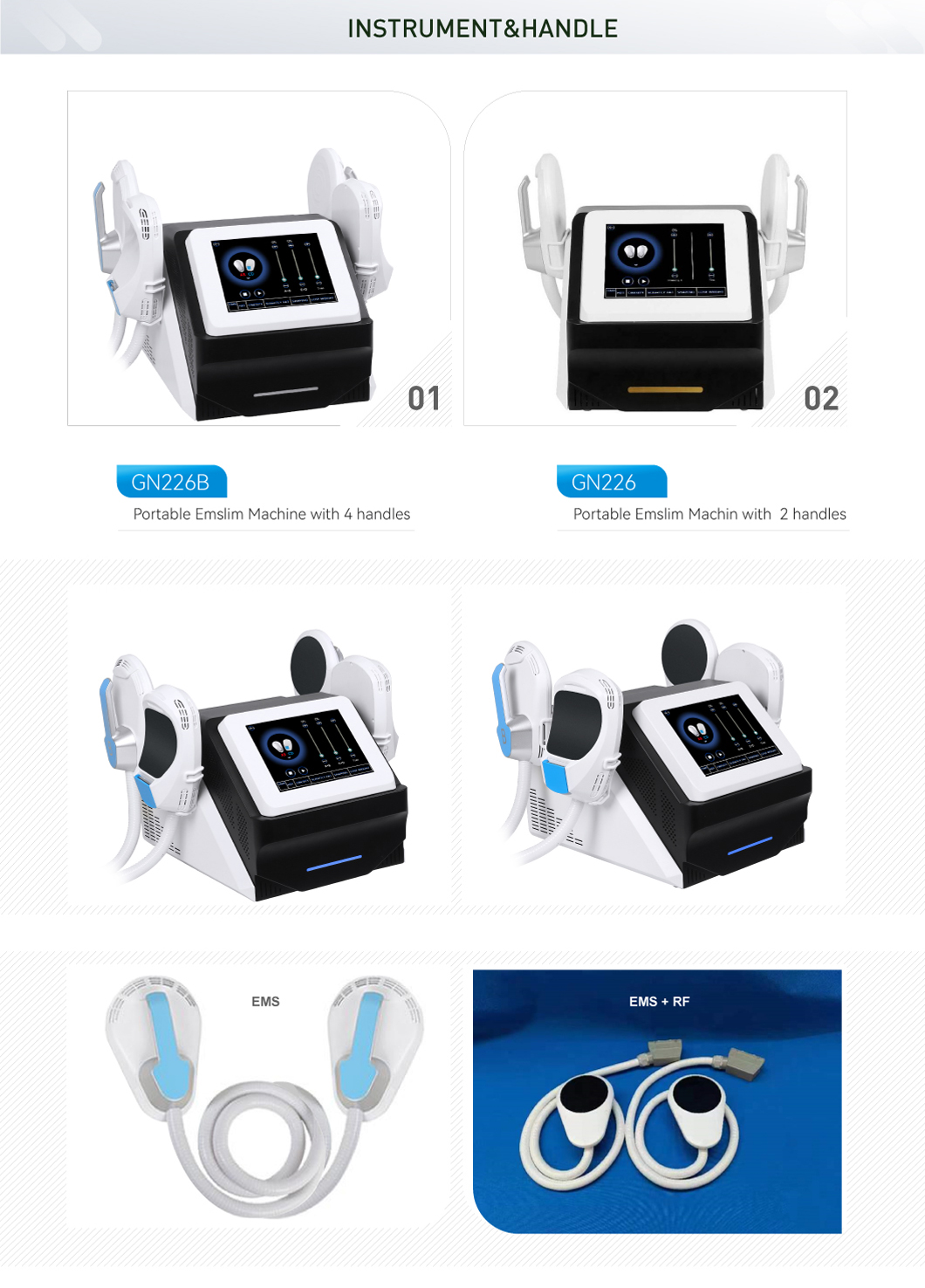 Fat reduction Weight loss Body slimming and body shaping Muscle building Muscle Sculpt